Sunday, August 5th, 2012
So, there I was, checking (being cashier) at Wal-Mart in the garden center. This family comes through with a bag of kitty litter, a covered litter box and even an odor filter for the box. Being somewhat contrary, and not wanting to sound personal with someone that I don't know, I commented, "You know, this is the wrong kind of litter pan for cat poop cookies."
I had to explain the concept to the family (I was shocked this was an unfamiliar topic). Mom was grossed out, and I am not sure she ever really understood that you don't use cat poop as an ingredient. Dad got it right away, and thought it sounded both fun and something neat to try. Last night I mentioned my surprise to an older couple checking out. They both thought it sounded like fun. My manager hadn't heard of cat poop cookies. *sigh*
The AllRecipes.com recipe page has a cute photo. I think it is mis-done, but. . .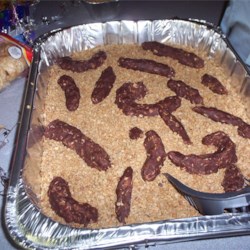 Google, last time I checked, had scads of recipes for cat poop cookies. I found one cat poop cookie recipe on MuttCat.com. (MuttCats.com features an animal shelter directory, articles, fiction, pet memorials, discussion boards, shopping and more.)
I also tend to ask customers at my register how their Wal-Mart adventure went today.